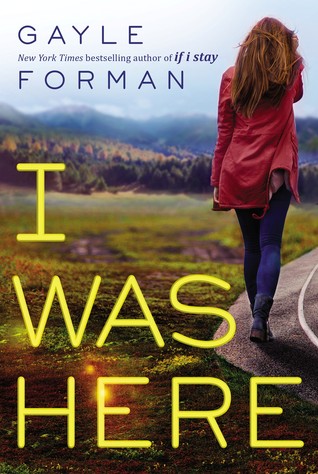 Novel: I Was Here by Gayle Forman | Goodreads
Release Date: January 27th, 2015
Publisher: Viking Juvenile
Format: ARC
Source: Publisher
Cody and Meg were inseparable.
Two peas in a pod.
Until . . . they weren't anymore.
When her best friend Meg drinks a bottle of industrial-strength cleaner alone in a motel room, Cody is understandably shocked and devastated. She and Meg shared everything—so how was there no warning? But when Cody travels to Meg's college town to pack up the belongings left behind, she discovers that there's a lot that Meg never told her. About her old roommates, the sort of people Cody never would have met in her dead-end small town in Washington. About Ben McAllister, the boy with a guitar and a sneer, who broke Meg's heart. And about an encrypted computer file that Cody can't open—until she does, and suddenly everything Cody thought she knew about her best friend's death gets thrown into question.
 
I Was Here is Gayle Forman at her finest, a taut, emotional, and ultimately redemptive story about redefining the meaning of family and finding a way to move forward even in the face of unspeakable loss.
If you didn't already know this, I'm a beyond huge fan of Gayle Forman. She's one of my spirit animal writers. After talking to her about this book back in October, I had a tingly feeling that I would love it just as much I have the rest of her books, and oh look! I was right.
I Was Here follows Cody, a witty and somewhat lost girl living in a small town in Oregon and her search for the real reason her best friend killed herself. Meg, her best friend, has gone away to college, leaving Cody at home, trying to figure out what she's going to do. Then, when Meg commits suicide, I saw this feeling of confusion, one that I assume to be common after a loved one kills themselves (I'm admittedly not familiar), and it's this feeling that carries the storyline. Cody's hunt for the truth leads her to Meg's dorm at college, to Nevada, and down paths in her own life she never planned on traveling.
There are two parts of this book that stood out to me, and neither was the romance (although it was great). The first was the relationship between Cody and her mother. Through the course of the book, Cody grows to not only understand her mother but also the way she raised Cody, allowing Cody to love her mother more than before. The second was the approach to the topic of suicide. Few novels that discuss suicide talk about the thought process leading up to the event – I've not read a single book that confronts the question "what would I do if I wanted to kill myself?". In I Was Here, Forman handles it with grace and curiosity, a combination that allowed the reader to not feel too shocked when reading at some points.
If you've got I Was Here on your TBR get excited to read about Stoner Richard! He's one of my favorite characters, mainly because at points I burst out laughing because of him. His character development was one of the highlights of the novel for me, and I wish I had more of him.
There are certain books that will always stand out in my mind. I Was Here is one of them. It's a captivating and emotional look at friendship that explores the harsh realities of the internet and how we interpret the word "family". Thunderous applause for I Was Here.